BALI 200hr TEACHER TRAINING
Leave behind your previous life, open your mind to new possibilities
2023
4 Jun – 26 Jun 2023
2 Jul – 24 Jul 2023
30 Jul – 21 Aug 2023
27 Aug – 18 Sep 2023
24 Sep – 16 Oct 2023
22 Oct – 13 Nov 2023
19 Nov – 11 Dec 2023
17 Dec – 8 Jan 2024
2024
14 Jan – 5 Feb 2024
11 Feb – 4 Mar 2024
10 Mar – 1 Apr 2024
7 Apr – 29 Apr 2024
5 May – 27 May 2024
2 Jun – 24 Jun 2024
30 Jun – 22 Jul 2024
28 Jul – 19 Aug 2024
25 Aug – 16 Sep 2024
22 Sep – 14 Oct 2024
20 Oct – 11 Nov 2024
17 Nov – 9 Dec 2024
15 Dec – 6 Jan 2025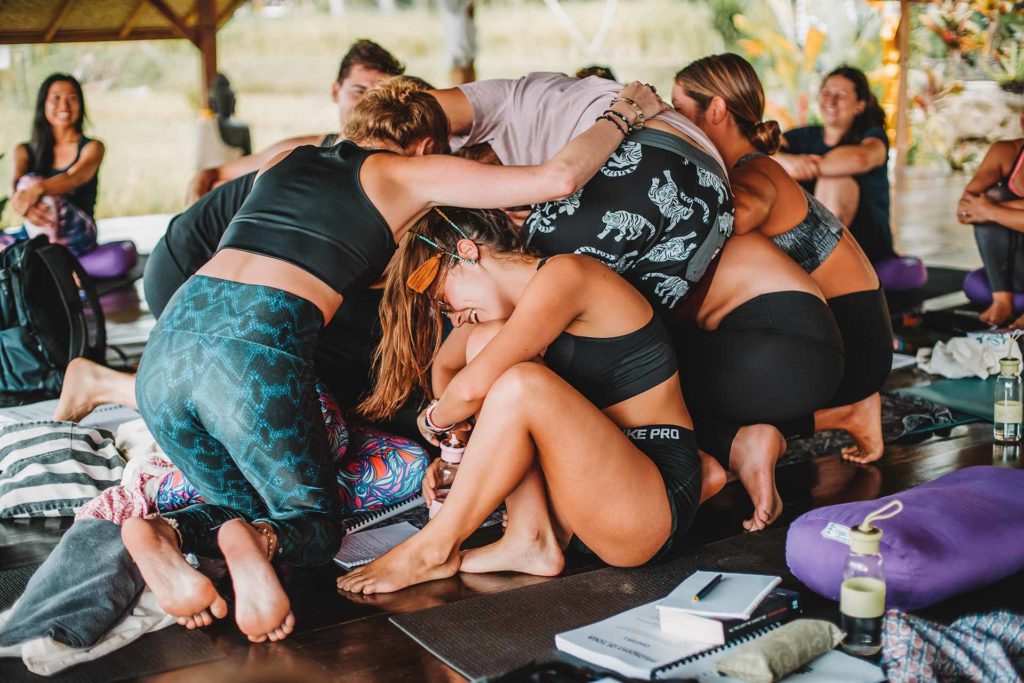 Based on thousands of hours of experience from all over the world, Ourania and Spyros carefully created and shaped the course to deliver the most educational, life-changing experience. The training is designed to challenge and develop individuals at all levels.
Our 200hr course specialises in Vinyasa Ashtanga Yoga, with a strong focus on the breath and how to combine it with movement.
– Building your confidence, skills and profound knowledge
– Comprehensive understanding of Vinyasa & Ashtanga practice
– Asana analysis & adjustment theory
– Methodology, theory, philosophy and anatomy/physiology
– Insights into basic Ayurveda, nutrition, healing, rejuvenation in relation to yoga practice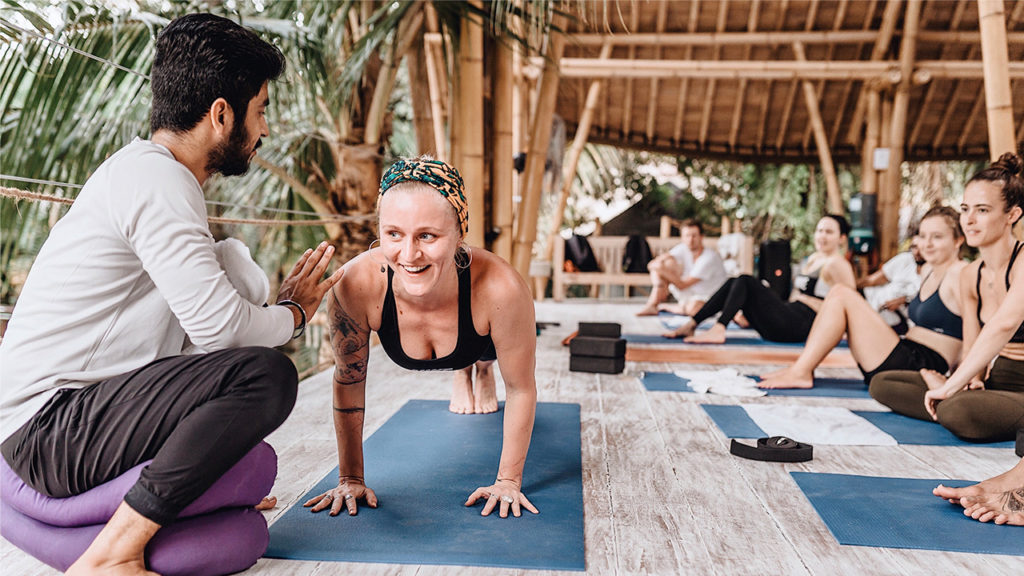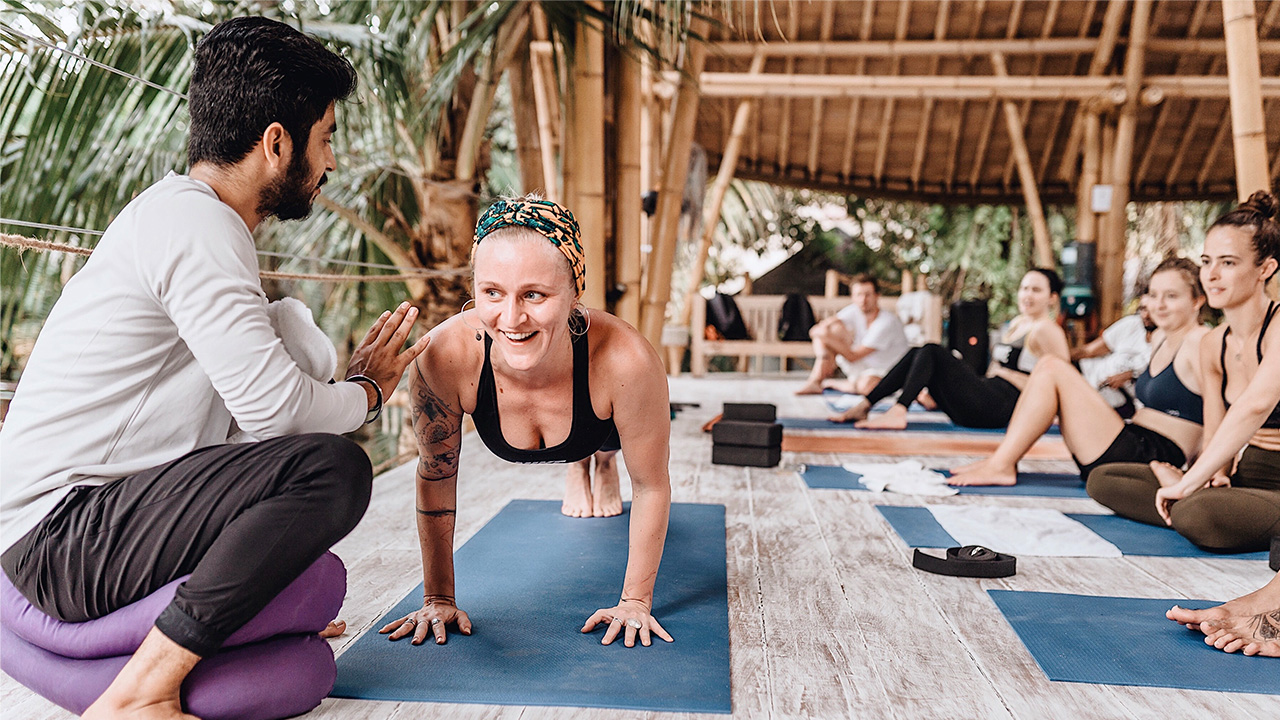 Daily, mornings will begin with an hour of pranayama, meditation and mantra chanting, followed by a Vinyasa flow class.
Early afternoons are focused on deep learning of asanas with an emphasis on alignment, adjustments & teaching methodology. You will dive into the theoretical part, studying Yoga Philosophy or Anatomy (alternating days).
The afternoon lessons will be focused on restorative styles of yoga such as Yin, Hatha, Nidra and specialized workshops.
We maintain a very high standard of teaching whilst making our classes extremely fun and interactive. You will have 1 day off per week, usually Sundays where you get to relax or enjoy the surroundings.
07:00 – 08:00
PRANAYAMA
08:00 – 10:00
VINYASA
10:00 – 11:00
BREAKFAST
11:00 – 13:00
ALIGNMENT
13:00 – 15:00
LUNCH
15:00 – 16:30

ANATOMY /
PHILOSOPHY

16:45 – 18:30
WORKSWHOP /
AFTERNOON
CLASSES
19:00
DINNER
As part of your final examination, you will be required to deliver a 30 minutes Vinyasa flow class to your fellow yogis.
The course will end with a written exam focused on Asana analysis, anatomy and philosophy.
Successful graduates of the course receive an internationally recognized certification by the Yoga Alliance for the 200 hours standard for Registered Yoga Schools (RYS).
We believe that whether one decides to teach or not after the training is of little importance.
This experience will allow you to grow and develop in a physical, mental and spiritual level. It will be a journey inwards and a cornerstone in the ultimate quest is self-realization and self-love.
Let us all start the process by smiling and not forget to have fun in the process!
Start your journey with us...
We understand that it's an important decision and there are many contributing life factors, so please do get in touch with us should you have further questions. 
Shared dOUBLE Room
3 meals a day, 6 days a week (excluding days off )
private room
3 meals a day, 6 days a week (excluding days off )
superior room
3 meals a day, 6 days a week (excluding days off )
Want to see the whole program?
For more detailed information about our course, click on the tab below