Greece 200H Vinyasa YTTC
(100h Online & 100h Onsite)
Are you yearning to unite the practice of yoga with exhilarating adventures, all within the captivating beauty of the coastal village of Greece?
Picture yourself exploring the stunning Palairos, delving into its rich cultural heritage, and indulging in mouthwatering cuisine, all while being part of a supportive community of like-minded individuals
Join us now!
16 Oct 2023 – 21 Oct 2023
11 Dec 2023 – 15 Dec 2023
OUR MISSION STATEMENT
What we do transcends practice.
We learn, re-learn, We break and grow.
Every day, on our mats – we sweat, laugh, cry, together.
We are present and aware. We support each other.
We embrace the challenge; we welcome uncertainty and seek change.
We do all, together. Build unbreakable bonds.
We enter an ever-growing community.
We become a family, a union. A YogaUnion.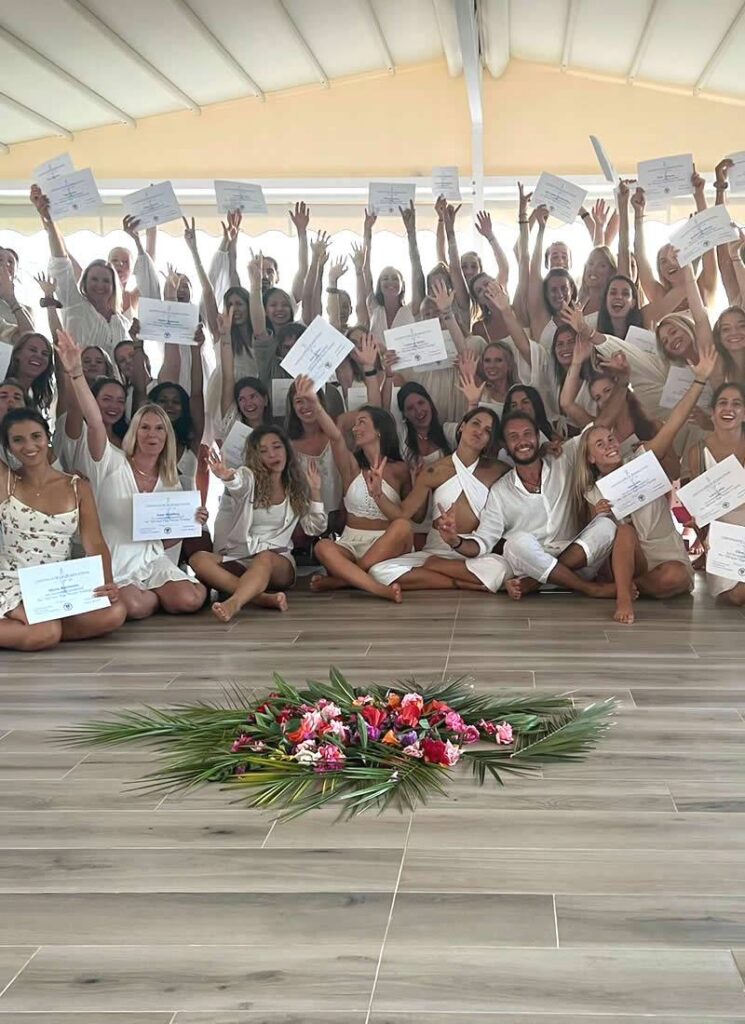 200H Vinyasa YTTC (100h Online & 100h Onsite)
We know that everyone is different, we offer options to make sure you have the freedom to experience—exactly what you've been dreaming about.
Introducing a training exclusively tailored for you. You'll have complete access to our 200h Vinyasa Online YTTC upon receipt of your deposit payment. Once in Palairos for your 10-day stay, you'll dive into an immersive on-site training, offering a harmonious blend of learning, social interactions, cultural exploration, and thrilling adventures! Our experienced teachers, with years of practice, will skillfully guide you through the remaining 100 hours. Additionally, the flexibility to conclude the training online empowers you to learn at your own pace, right from the comfort of your home!
You'll nourish your mind, body and soul forming connections with like-minded, playful, adventurous souls.
You'll have a group-host, who'll be on hand at all times to support any of your needs.
Snapshot:
Yoga Class Style: Vinyasa Ashtanga Mix
Food: Vegetarian, Vegan
Skill level: All Levels
Location: Palairos, Greece
What's included?
10 days accommodation
3 meals a day
100h Online session, 100h Onsite (Live) session Ceremony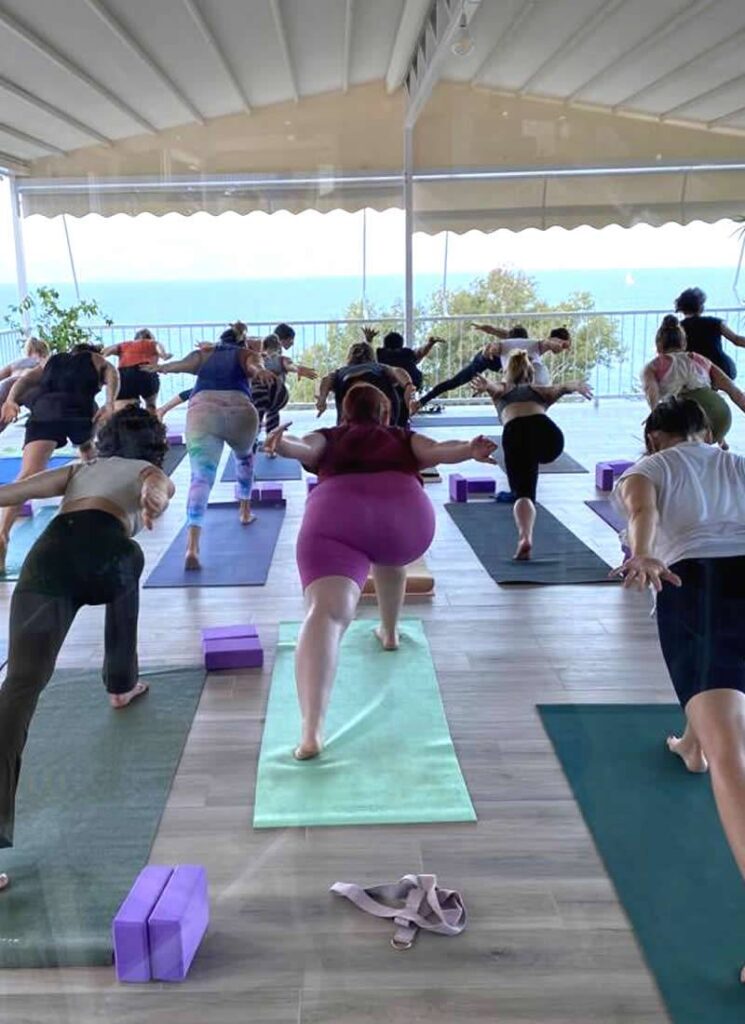 THE COURSE:
Based on thousands of hours of experience from all over the world, Ourania carefully created and shaped the course to deliver the most educational, life-changing experience. The training is designed to challenge and develop individuals at all levels.
Our 200hr course specialises in Vinyasa Ashtanga Yoga, with a strong focus on the Asana practice.
We focus on:
We help you to build the solid practice
Building your confidence, skills and profound knowledge
Comprehensive understanding of Vinyasa based on Ashtanga practice
Asana analysis & adjustment theory
Deep understanding of Pranayama and Meditation practice – Chanting
Afternoon workshops and practicing of various style of yoga such as Yin, Restorative Yoga and Hatha.
Methodology, theory, philosophy and anatomy/physiology
Insights into basic Ayurveda, nutrition, healing, rejuvenation in relation to yoga practice
We train you to be the best yoga teachers
The business aspect of yoga
YOU CAN EXPECT
Daily, mornings will begin with an hour of pranayama, meditation and mantra chanting, followed by a Vinyasa flow class.
Late mornings are focused on deep learning of asanas with an emphasis on alignment, adjustments & teaching methodology. You will dive into the theoretical part of Asanas, early afternoons you will study Yoga Philosophy or Anatomy (alternating days).
The afternoon lessons will be focused on restorative styles of yoga such as Yin, Hatha & Nidra and specialized workshops.
Far from the traditional approach, we maintain a very high standard of teaching whilst making our classes extremely fun and interactive.
From day one, you will start teaching a few minutes of Vinyasa lesson that will help you to have the confidence to teach a lesson at the end of your course.
| | |
| --- | --- |
| 07:00 – 8:00 | PRANAYANA |
| 8:00-9:30 | VINYASA |
| 10:00-11:00 | BREAKFAST |
| 11:30-13:30 | ALIGNMENT |
| 13:30-15:00 | LUNCH |
| 15:00-16:30 | ANATOMY / PHILOSOPHY |
| 16.45-18:15 | WORKSHOP / AFTERNOON CLASSES |
| 19:00 | DINNER |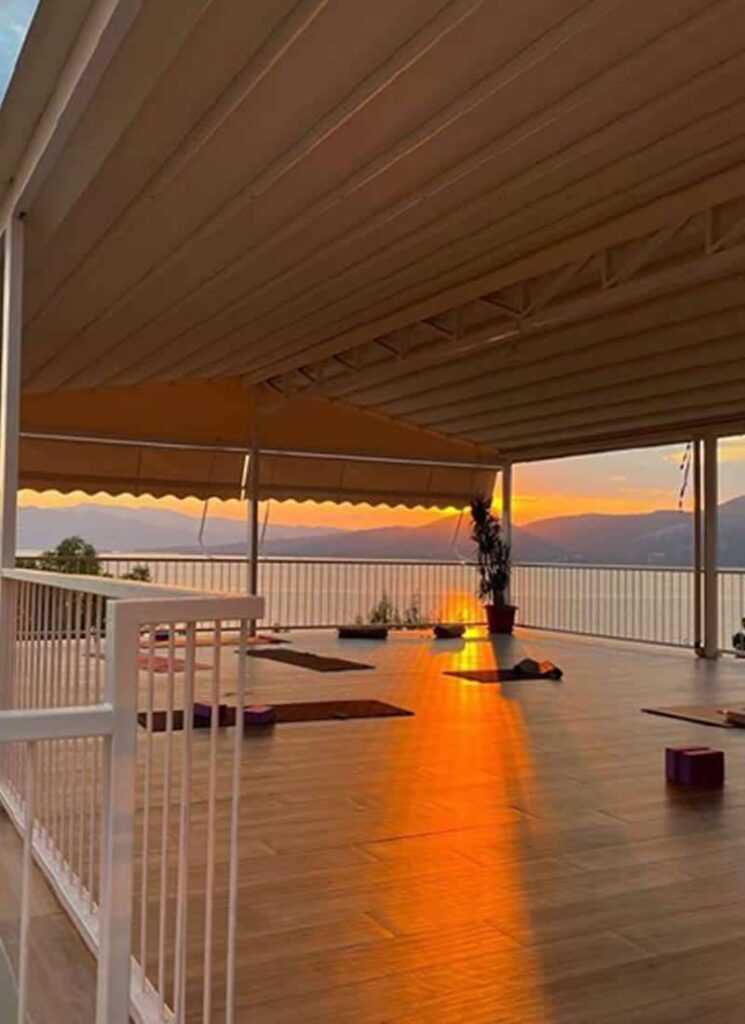 HYGIENE PRACTISES
The safety of our students is our top priority and we continuously follow all up-to-date safety protocols, as well as local authorities requirements.
A few important things to note:
In respect to the safety regulations, the students are required to bring their own Yoga Mat Towel, belt.
High hygiene standards
We are doing all we can Ğo make sure ĞhaĞ we will greeĞ you wiĞh healĞh and happiness!
REQUIREMENTS
YOGA PRACTICE: The more comfortable you are as a yoga practitioner, the more you will be able to focus on the teaching and transformational aspects of your training. To take most out of the training we recommend a foundation
in fundamental yoga postures.
ENGLISH: We welcome all nationalities and languages, our material and lessons are delivered in clear and not over-complicated English. Please note all the classes are delivered in English and so is the exam.
ATTENDANCE: To ensure the success of the training, participants are required to attend all the classes and lectures.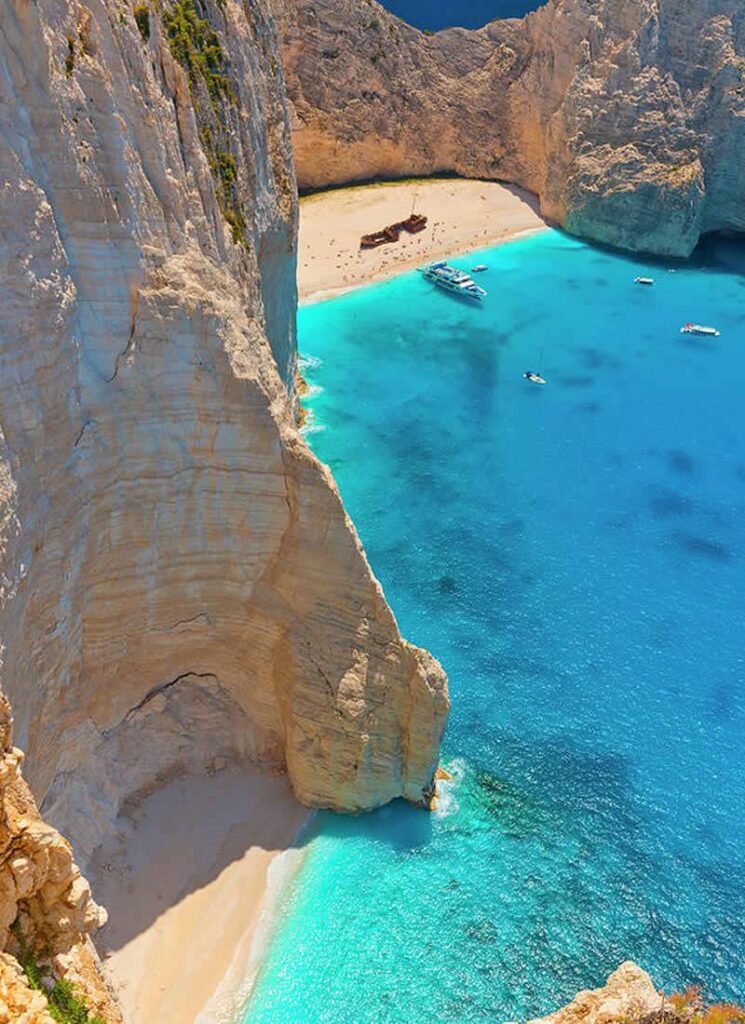 PALAIROS, GREECEBALI
Palairos is a charming seaside village that offers an opportunity to experience a rustic and traditional way of life. If you seek the beauty of a simple and authentic lifestyle, this location comes highly recommended.
In Palairos, you'll escape the urban distractions and immerse yourself in a delightful ambiance. Discover traditional tavernas serving delicious local cuisine and savor freshly baked bread from family-owned bakeries. As you stroll to the Yoga Shala, you can pluck fresh fruits from local trees, adding a touch of natural goodness to your day.
For beach lovers, a short drive away will lead you to some of the most stunning beaches in the area, promising even more moments of tranquility and beauty.
Come and embrace the serenity of Palairos, where simplicity and authenticity await your presence.
YOGIC DIET
YogaUnionBali is proud to collaborate with KostaMaria to provide our participants with the finest nutrition. During your stay, you will be treated to the enriching experience of following a yogic diet that comprises wholesome vegetarian and plant-based foods.
With KostaMaria's team of highly skilled Health Food Chefs, your culinary journey will be nothing short of remarkable. They are dedicated to offering you a taste of the very best that Greece has to offer, sourcing the finest local, organic products, fruits, and superfoods to create a well-balanced and nourishing menu. By blending the renowned Mediterranean diet with the essence of the Yogic diet, your taste buds will be delighted, leaving you with a longing to return to Greece time and again.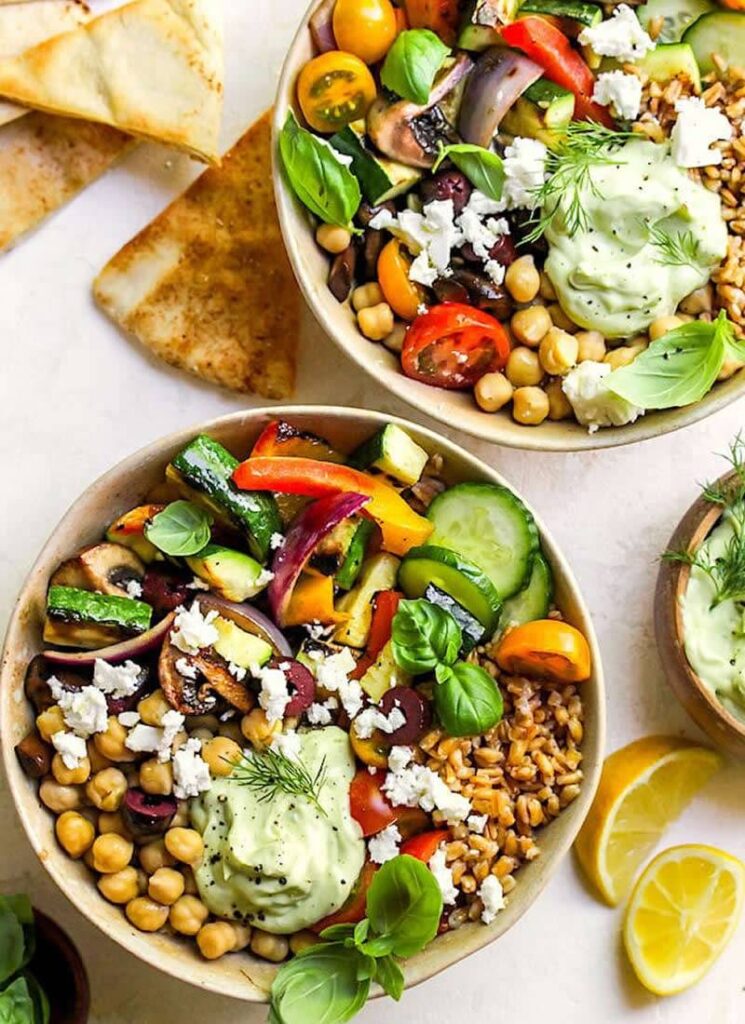 Start the journey back to your heart, to balance.
To your core.
Come join us on this journey of self-discovery, where rebalancing and reconnecting become not just concepts, but lived experiences that stay with you long
after you've left the retreat.
KOSTAMARIA HOTEL
Welcome to Kosta Maria, your perfect haven for the upcoming training! Our beautiful hotel is nestled in the charming seaside village of Palairos, just 21km from Aktion Airport. Enjoy modern amenities in our well-appointed rooms, including air conditioning, WiFi, a small kitchen, fridge, and a private garden and terrace for a relaxing stay. Indulge in our inviting swimming pool, spacious garden, and mesmerizing Ionian Sea view from the yoga shala.
Treat yourself to delectable dishes and refreshing beverages at our bar/restaurant. Plus, unwind on our private beach, basking in the sun or meditating to the soothing sounds of the sea.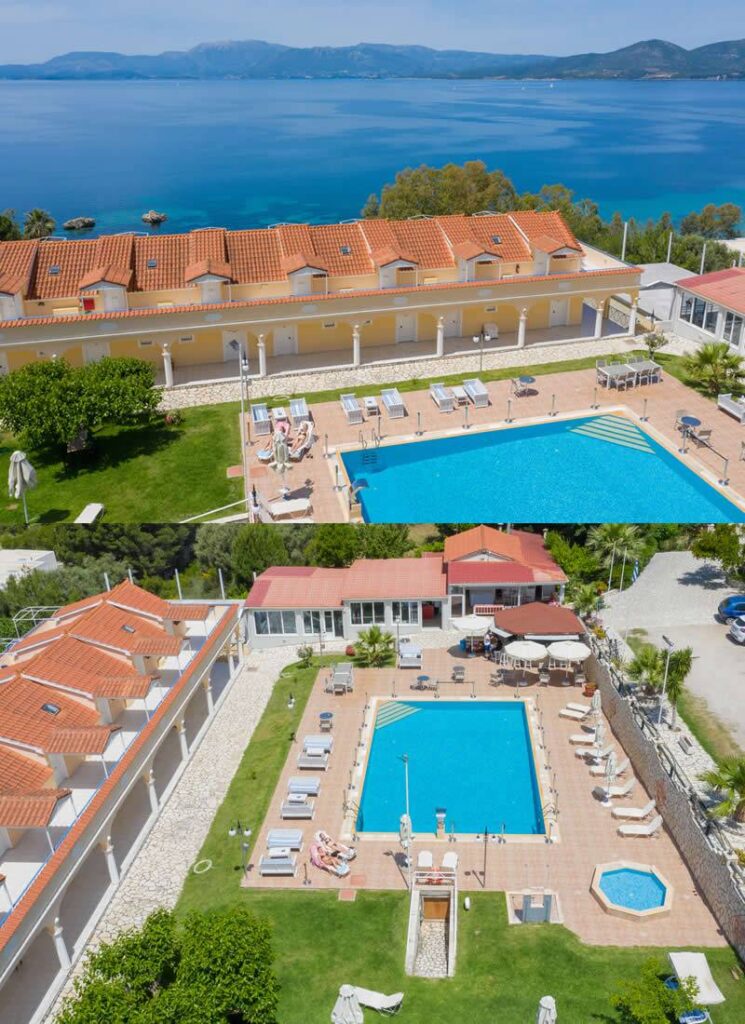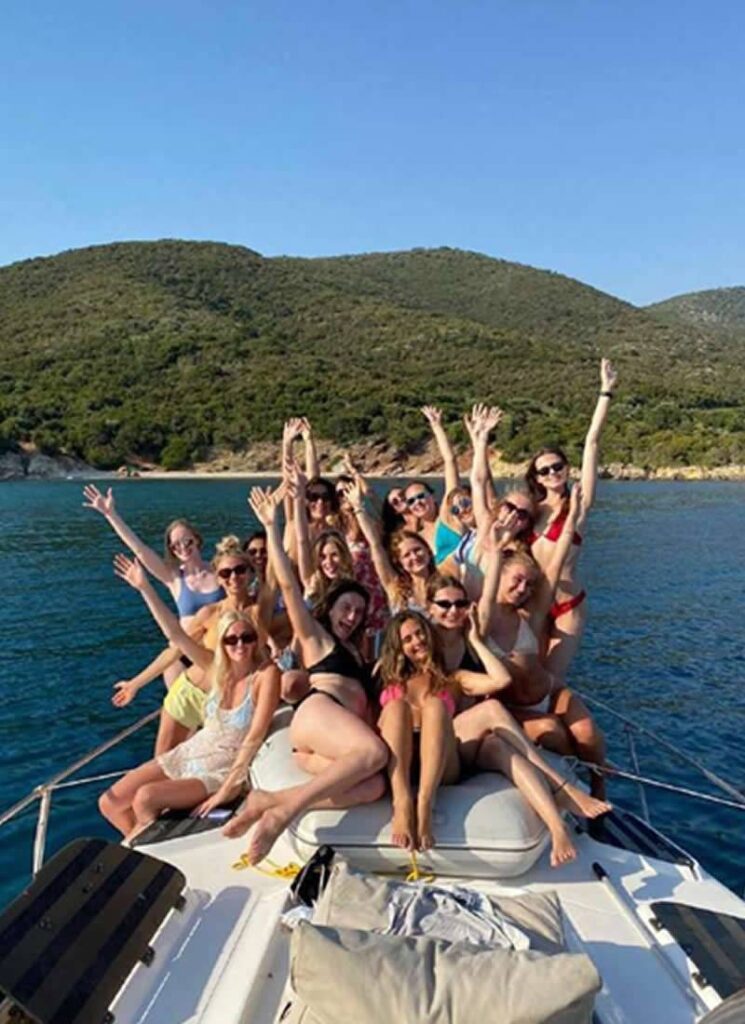 The Charm of Palairos
From cooking classes to snorkeling, Greece offers plenty activities in gorgeous natural settings. We will be more than happy to help you organizing these activities during the training.
Fill your free time by scheduling activities with us such as:
Daily trips
Sailing
Snorkeling & Scuba Diving
Natural Landscape
Trekking
Thermal Springs
Cooking Class