200hr Vinyasa Teacher Training
Leave behind your previous life, open your mind to new possibilities
Yoga Union Bali takes roots in Doha!

November 19 – December 11, 2023

Why Doha?
It is time to turn our imagination into reality.
We will bring you into a remarkable experience of a self – discovery journey in one of Qatar's first leisure destinations. Experience the Qatar's uniqueness of neighbourhoods which boast waterfront views, sandy beaches, retail, exhibition spaces and eateries, reflecting the rich diversity of this compact state.
 All inclusive packages – from €3650
22 nights stay/ 6 days per week training/3 meals per day
Course, materials, lessons and exams in English language
YogaAlliance certification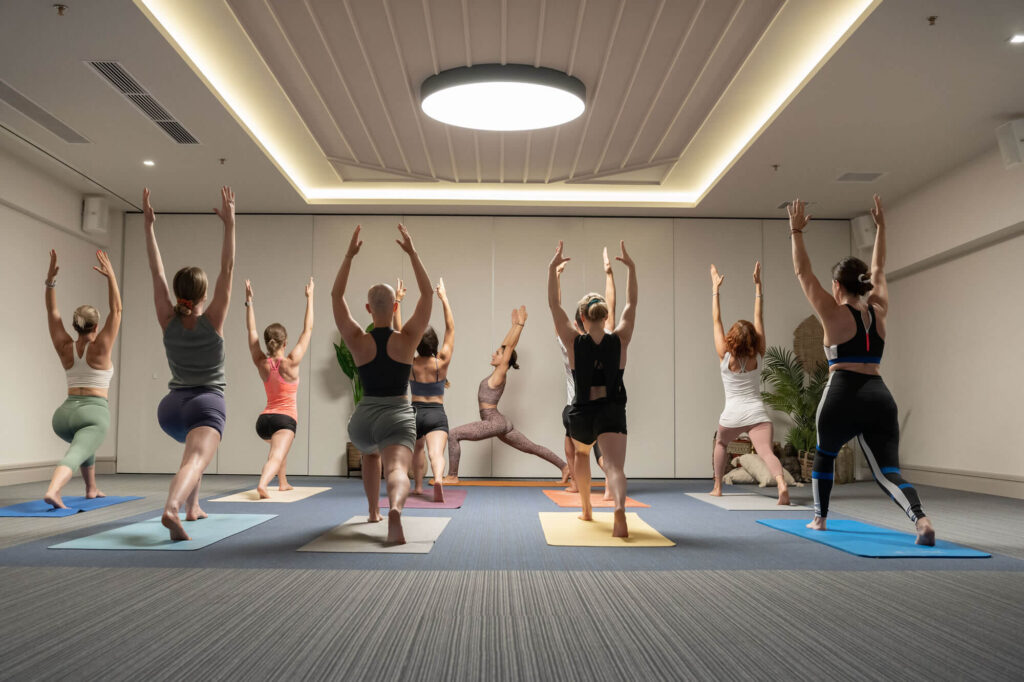 Based on thousands of hours of experience from all over the world, Ourania carefully created and shaped the course to deliver the most educational, life-changing experience. The training is designed to challenge and develop individuals at all levels.
Our 200hr course specialises in Vinyasa Ashtanga Yoga, with a strong focus on the Asana practice.
We help you to build the solid practice
Building your confidence, skills and profound knowledge
Comprehensive understanding of Vinyasa based on Ashtanga practice
Asana analysis & adjustment theory
Deep understanding of Pranayama and Meditation practice – Chanting
Afternoon workshops and practicing of various style of yoga such as Yin, Restorative Yoga and Hatha.
Methodology, theory, philosophy and anatomy/physiology
Insights into basic Ayurveda, nutrition, healing, rejuvenation in relation to yoga practice
We train you to be the best yoga teachers
The business aspect of yoga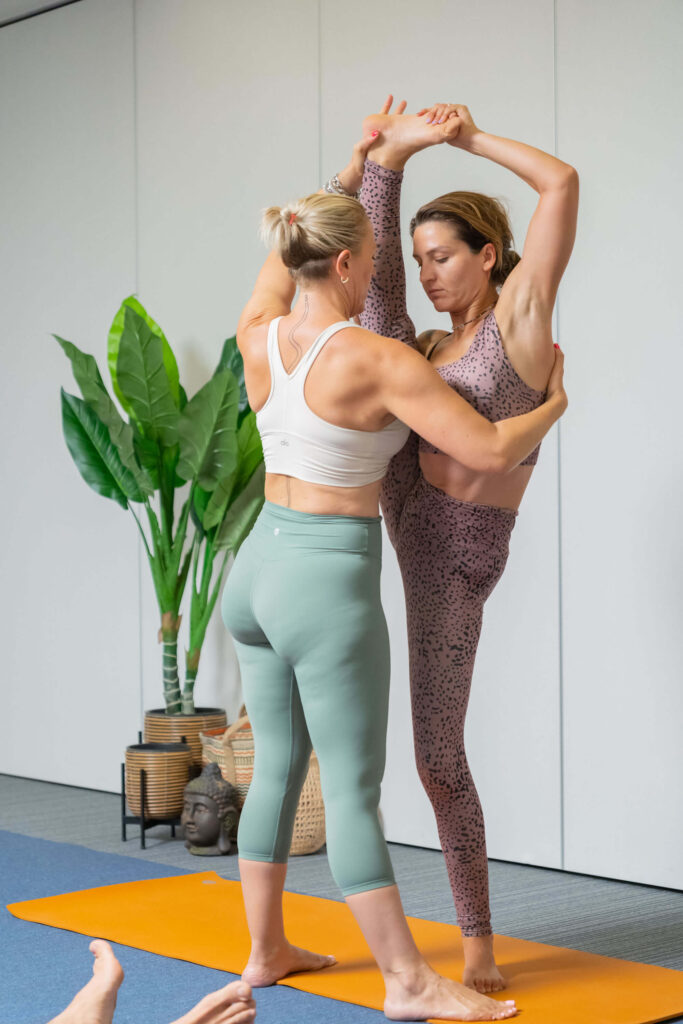 Daily, mornings will begin with an hour of pranayama, meditation and mantra chanting, followed by a Vinyasa flow class.
Late mornings are focused on deep learning of asanas with an emphasis on alignment, adjustments & teaching methodology. You will dive into the theoretical part of Asanas, early afternoons you will study Yoga Philosophy or Anatomy (alternating days).

The afternoon lessons will be focused on restorative styles of yoga such as Yin, Hatha & Nidra and specialized workshops.
Far from the traditional approach, we maintain a very high standard of teaching whilst making our classes extremely fun and interactive.
From day one, you will start teaching a few minutes of Vinyasa lesson that will help you to have the confidence to teach a lesson at the end of your course.
You will have 1 day off every week, usually Sundays where you get to relax or enjoy the surroundings.
07:00 – 08:00
PRANAYAMA
08:00 – 9:30
VINYASA
10:00 – 11:00
BREAKFAST
11:30 – 13:30
ALIGNMENT
13:30 – 15:00
LUNCH
15:00 – 16:30
ANATOMY /
PHILOSOPHY
16:45 – 18:15
WORKSWHOP /
AFTERNOON
CLASSES
19:00
DINNER
Doha is Qatar's ultramodern capital city. It is home to approximately 1.19 million people from all over the world. It's the country's fastest-growing city and its business centre, underwent a complete economic transformation and became a modern and prosperous city. Known for its exemplary hospitality, exquisite cuisine, unique shopping experiences and traditional souqs, along with a plethora of adventures and activities.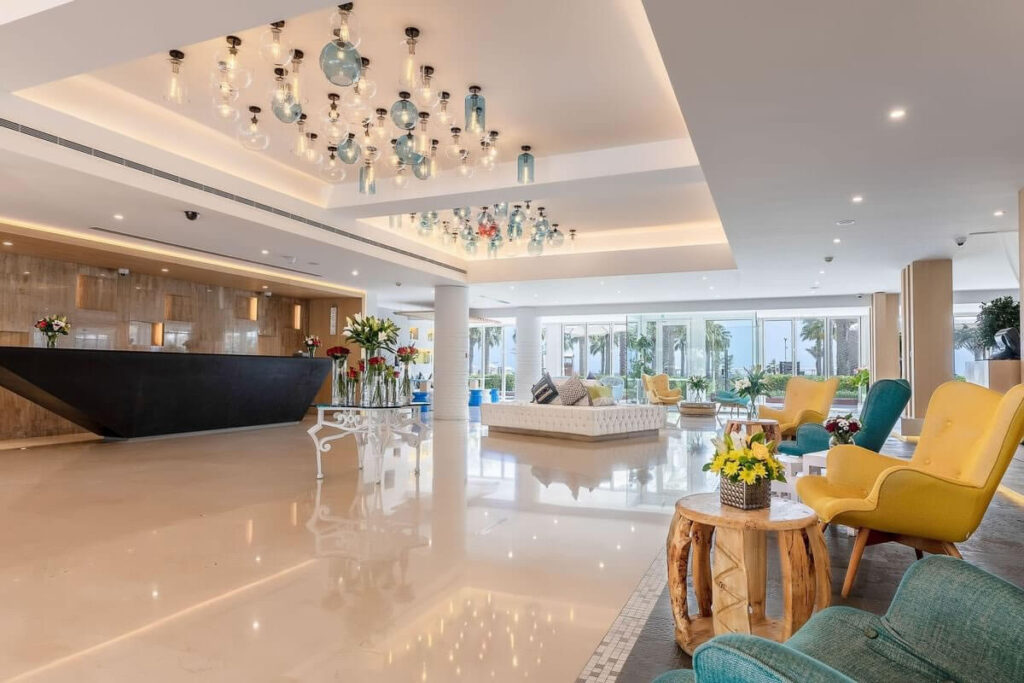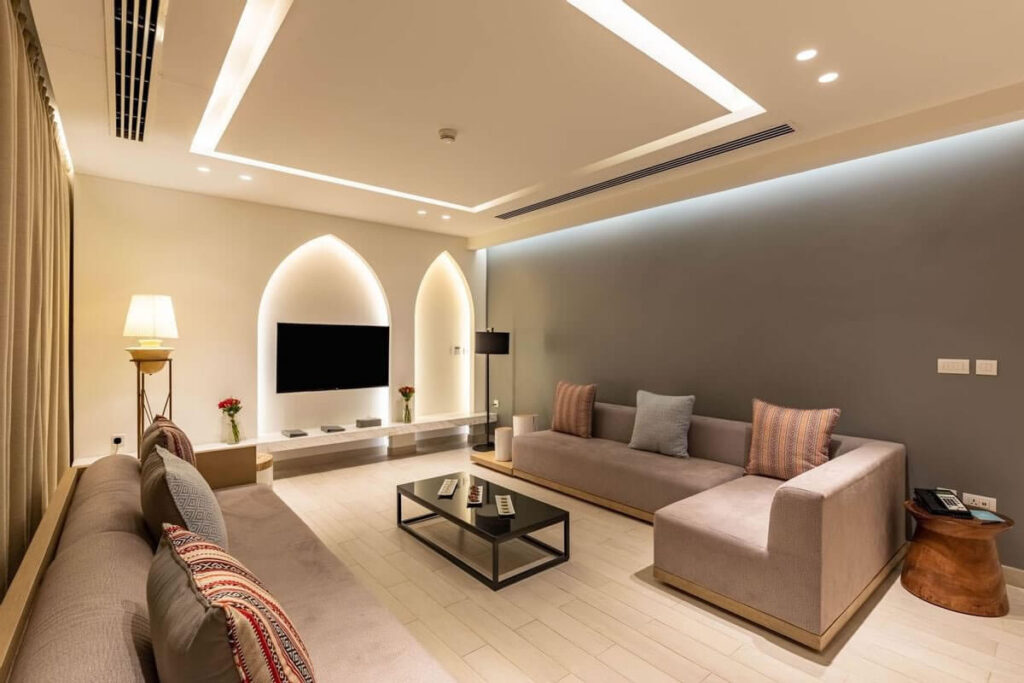 Sealine Beach Resort, A Murwab Resort
You will experience your best three weeks at Sealine Beach A Murwab Resort one of our amazing venues in Doha, Qatar.
Sealine Beach offers a unique royal experience which ensures the best unforgettable memories you will carry forever together with your spiritual journey inwards.
The 5-star gem of Doha, adopts the tranquility and glamor of the natural landscape and offers an experience that touches all senses. The noble luxury, the feeling of privacy and the discreet and warm hospitality of the staff, make the visitor the focus of attention and create a sense of a personalized stay.
Rising majestically from the sands, where the waves meet the dunes, lies SEALINE BEACH RESORT, a haven of comfort, luxury, and diversity. Qatar's first leisure destination, Sealine Beach Resort, A Murwab Resort, is the perfect place to get away from the thriving urban life, reachable within 1 hour drive (55km) from the only airport, Hamad International Airport.
YogaUnionBali has partnered with Sealine Beach Resort, A Murwab Resort to supply the best nutrition for our participants. The students will follow the yogic diet consisting of vegetarian, plant-based foods.
Sealine Beach Resort holds an excellent team of Health Food Chefs who are here to make your stay unforgettable by offering you some of the best tastes Doha has to give – bringing the best local, organic products, fruits, and superfoods, while creating a balanced menu. The well known Mediterranean diet with extraordinary combination of Yogic diet, that will make you keep wanting to go back to Doha again and again.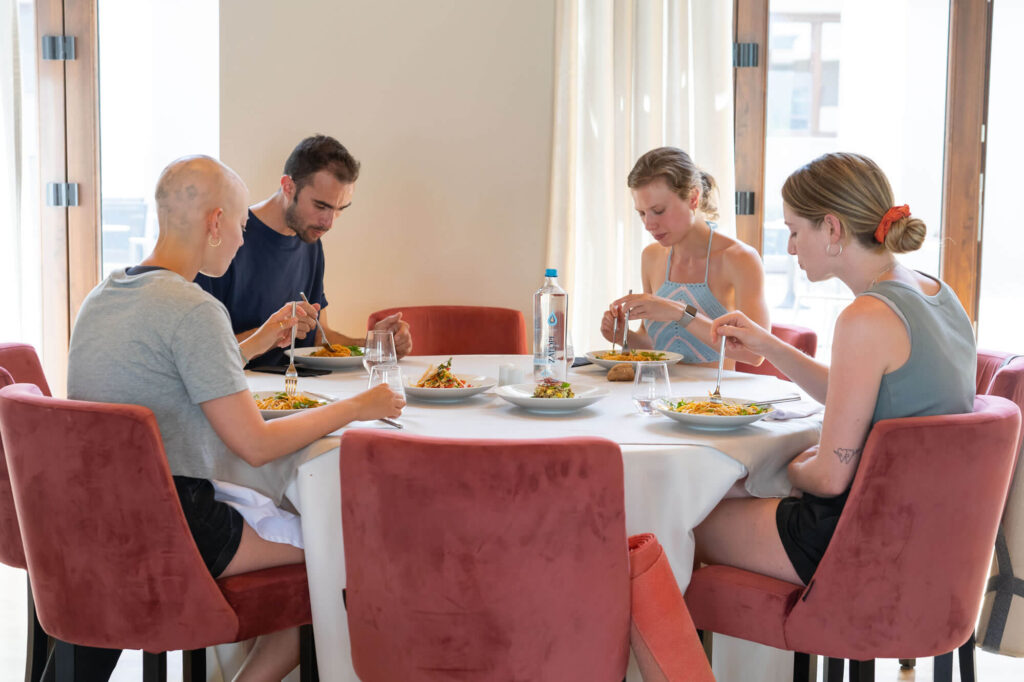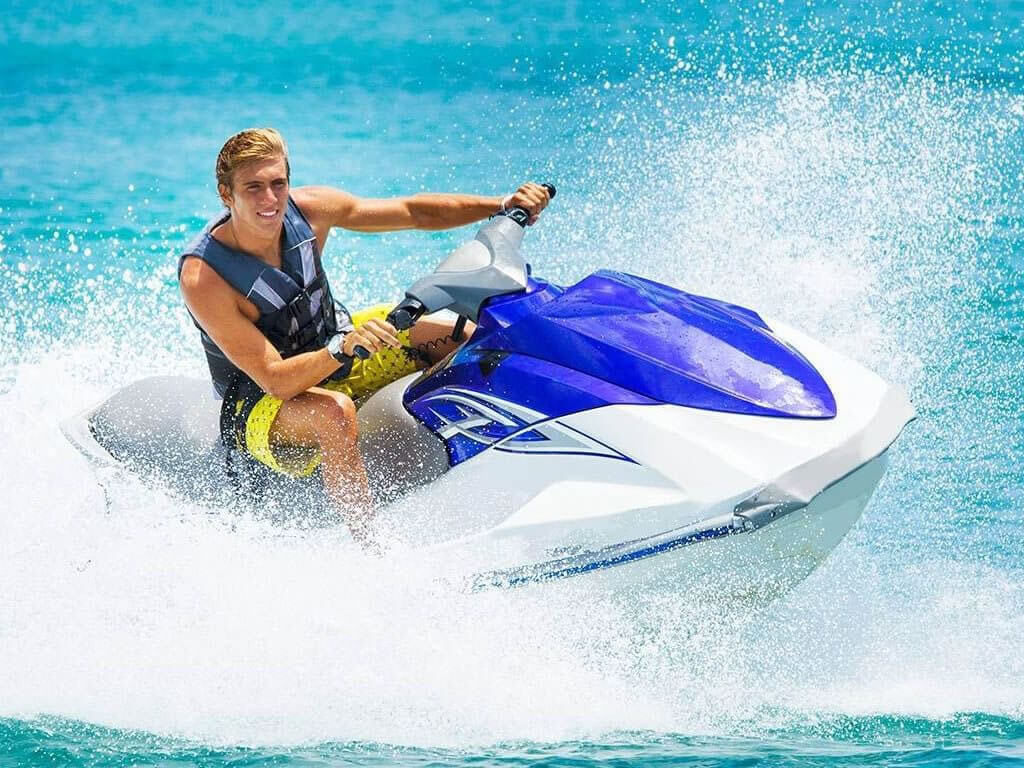 An unmatched resort destination for sun seekers and adventure lovers, Sealine Beach, A Murwab Resort, offers an eco-friendly destination that is as exhilarating as it is tranquil and relaxing.
Fill your free time by scheduling activities with us such as:
(Free of Charge)
Private Beach
Swimming Pool
Beach Volleyball
Basketball Courts
Tennis Courts
(With extra payment)
Jet Ski
Kayaking
Stand Up Paddle
Underwater Scooter
Dune Bashing & Desert Safari
Quad Biking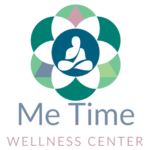 Me Time is a wellness center conceptualized by women, promoting self care that help contribute to better physical and mental health. Our establishment offers services for the body and mind which includes: Relaxing Thai massage by certified massage therapists, Yoga classes from Doha's most loved and respected yoga instructors, Meditation and Breathing Exercises with extensively trained and highly skilled teachers/coaches.
YogaUnionBali has been delivering transformational Yoga Teacher Training Courses for over 15 years now in Bali, Greece, India & Doha.
Together we are bringing you this incredible 200h Vinyasa YTTC in the majestic Doha.
We are committed to sharing and teaching this practice in a way that really gives you all that the training has to offer. We have experienced and witnessed the transformation, growth and life-changing impact that our courses deliver to each of our students.
As such, we guarantee that immersing yourself in this learning experience will unlock a whole new layer to your Yoga practice, and change the way you experience connection, play and communication in your everyday life!
ARE YOU READY TO ESCAPE STRESS AND WORRIES AND FOCUS ON YOURSELF?
JOIN US IN BEAUTIFUL DOHA!
shared triple room
Accommodation for duration of the course (23 Days)

3 meals a day, 6 days a week (excluding Sundays - day off )
shared double room
Accommodation for duration of the course (23 Days)

3 meals a day, 6 days a week (excluding Sundays - day off )
PRIVATE room
Accommodation for duration of the course (23 Days)

3 meals a day, 6 days a week (excluding Sundays - day off )
Book your spot now by completing the form below and our team will reply shortly with your payment link and booking details!
As part of your final examination, you will be required to deliver a 30 minutes Vinyasa flow class to your fellow yogis.
The course will end with a 3 hour written examination focused on Asana analysis, philosophy & anatomy.
Successful graduates of the course receive an internationally recognized certification by the Yoga Alliance for the 200 hours standard for Registered Yoga Schools (RYS).
LIFE AT THE SHALA - GREECE